What does it mean to be a gentleman in the Time's Up era?
For Rémy Martin, the French brand known for producing fine cognac, it means living by some enduring traditional values but applying them to fit to contemporary times. That's why on a hot and bright March afternoon, the brand invited a few guys over to The Refined at Bonifacio Global City, a grooming spa and networking lounge exclusive for men, to re-introduce the gentleman culture. "We're not just talking about opening doors for ladies but something more holistic," Myke Soon, marketing manager for Rémy Martin in the Philippines, explained. "We want to go beyond style to substance and sophistication."
With The Dapper Series, a string of social events organized by Rémy Martin, the brand aims to highlight the different aspects of the contemporary gentleman's lifestyle. Its first one, A Cut Above The Rest, held on March 13, was all about grooming: getting a proper haircut and shave, enjoying a massage, and even a glass of cognac to top off an afternoon of looking after one's self.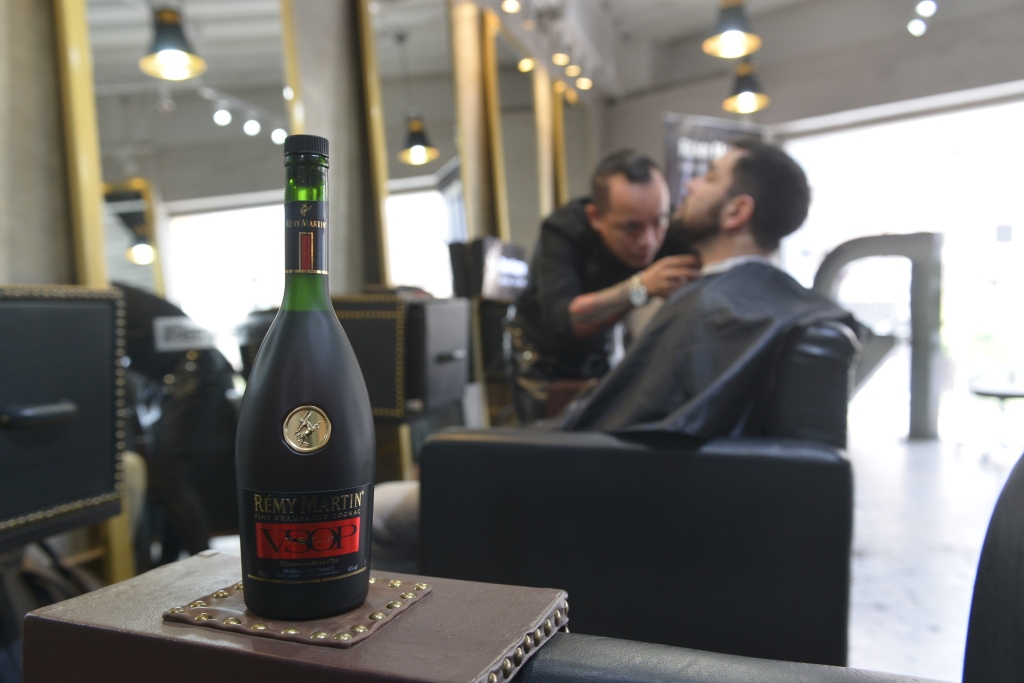 "For the next one, it would be about dining, mainly about food and wine pairings, and we'll also have another one about style and fashion," Soon explained.
Like what Queer Eye does for men?
"Yes, something like that," he confirmed with a laugh.
Rémy Martin saw the necessity of re-introducing the gentleman culture to the public in the light of the worldwide #MeToo movement, which has called out the patriarchal structure that corrupts communities and industries across the board by promoting inequality and sexism. "Our skewered notions of what it means to be a man must be re-examined; respect for others should always be the basis," Soon said. "That respect will also show in how a guy presents himself, how he treats others, and how he values other people's opinions."
Though the general image of Rémy Martin hews more closely to that of a distinguished, older, and successful man, Soon is optimistic that a wider, younger market would appreciate the values that its cognac embodies. "For almost 300 years, Rémy Martin has been about upholding excellence, and making the most out of being excellent. With The Dapper Series, we'd like to translate that value into helping men become better versions of themselves every day."
With the tag line "One Life. Live Them," Rémy Martin also hopes to inspire men to explore their other talents and passions and not be defined by just one thing that they do. Being a gentleman, for example, doesn't simply mean dressing straight out of the Mad Men set; as shown by the event's guests, the more casual streetwear and athleisure looks are perfectly acceptable modes of cultured dressing (especially when paired with proper grooming). Individualism is necessary, as pushing for just one type of ideal, particularly a physical ideal, would be counter-intuitive to the message.
"Each person is multi-faceted; an artist can also be a businessman, and there are so many creative folks out there who have plenty of slashes in their job titles," said Soon. He likened it to the Rémy Martin cognac, which is made from grapes that grow in the top two areas of the exclusive Cognac region France. "And while aging is an important part of the process, the highlight is in the blending of up to 200, 300, even 400 cognacs to come up with a singular, consistently excellent taste.
"We see men to be just like our cognac, which is multi-layered. We all have only one life, so Rémy Martin would like to encourage men to go for the things they are passionate about."
Header art by Pol Aries Zamora