Home is where the art is for Monica Ramos.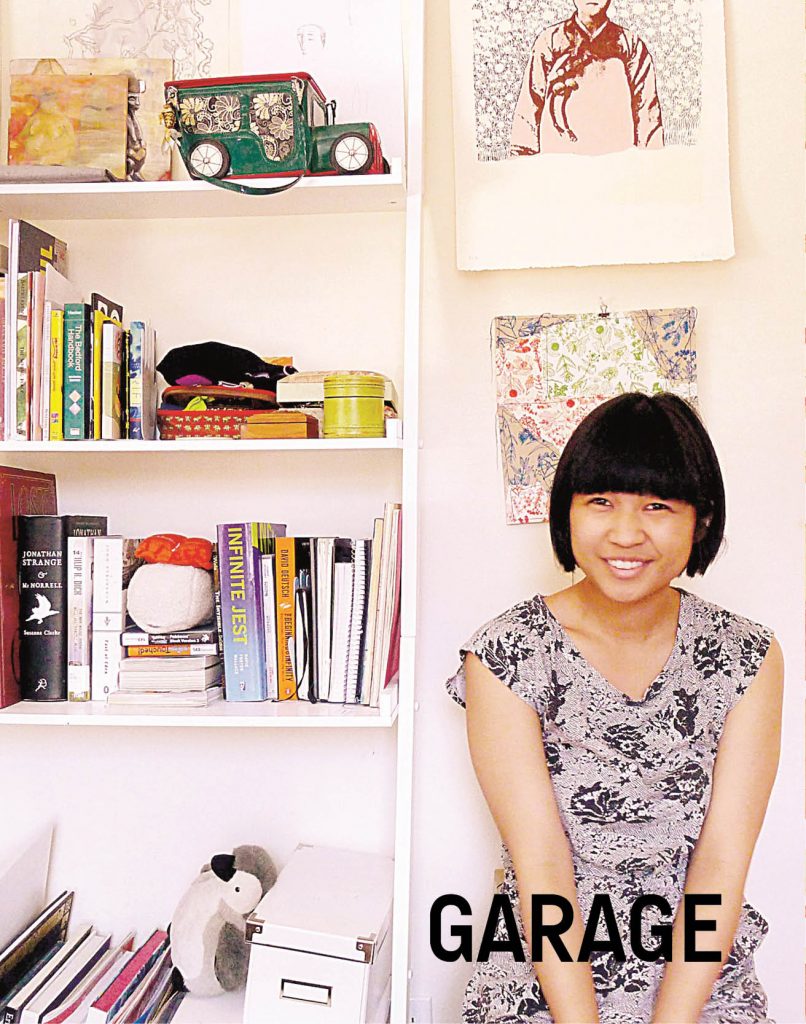 Though she admits to feeling anxious about the future, the Parsons the New School of Design graduate still churns out work that, at the very least, brings a smile to a viewer's face. Her witty watercolor illustrations, with their soft lines and pretty, dusty colors that fit right in with a Wes Anderson movie, have been seen on the feminist online magazine Rookie Mag and on the pages of The New York Times, Pulp Magazine, New York Spirit, Oh Comely Magazine, and Conde Nast Traveler. It seems whatever misgivings she may have about the unknown, Ramos is resolute to keep her art cheerful and good-humored, poking honest fun at human behavior, at our fears, insecurities, and inconsistencies.
"I was very sheltered growing up, a very late bloomer who was always dreaming. Home will always be a safe, happy place for me," the New York-based artist admits. "I have no idea about what's going to happen next so I find myself making happy places in my work." Food, her ideal places, the body, dreams, feelings, and the sense of belonging are recurring themes in her art, frequently featured in tessellation-like patterns. This repetition of lines and figures has a comforting effect even when the subject matter would normally be titillating, such as the naked body. "There's a lot of nudity in my work but it's usually non-sexual," Ramos says. "I had to get over my Catholic school guilt before accepting that it's normal to have a body and not be ashamed of it."(She went to PAREF Woodrose for high school.)
Memories of home and the past may serve as fuel for work, but Ramos has a bright future to look forward to, wherever she'll find herself next. As it is, despite the push and pull between what has been and what's next, she seems to have gotten the "living in the moment" trick down pat with her art: "I try not to take myself too seriously. If we wait for our work to be totally perfect, we'll never show anything at all."
Do where you grew up and where you live now affect your art?
"Everything affects your work: every person, place, crush, kiss, snack, story, website, and bike ride that make up your memories and personality are mashed up in your head and come out one way or another on the page. I become nostalgic about the simpler days when faced with uncertainty, but living in New York has probably made me a more open-minded person. Or maybe I just grew up a bit. I'm more comfortable and honest with myself now."
In which aspect of your artistry did you notice the most growth while studying at Parsons?
"Going to Parsons gave me the time and space to really focus on making work. I don't think I would have reached the same point on my own. I liked the structure and felt that my desire to peruse the 'arts' was validated. I began thinking about the meanings of images instead of just drawing pretty girls all the time. Being surrounded by all these creative people was also very inspiring. The stress came from trying to impress my people. I felt like I didn't know what I was doing—a running theme of life—and I didn't know what my professors wanted. As cheesy as it sounds, the most important thing I learned was to stay true to myself. Trust myself and not be afraid."
Your art has humor in it. What do you find funny?
"One time in high school, we all passed around a piece of paper where we were supposed to write nice things about each other. Lots of people said I was funny, but one person wrote that I was funny-looking; I thought that was funny. Funny is a weird word."
Food is also a theme that pops up frequently in your work. What is your relationship with it?
"It's a combination of two things: one, I was so spoiled eating good food at home, and two, now that I'm living by myself, I don't cook that well. I tend to draw food that I would like to eat. I love Filipino food and can cook adobo and sinigang. I also learned how to make crepes because I thought they were too expensive [to buy]. I also like pancakes, chocolate, mangos, calamari, doughnuts, those flat noodles, and fresh buko."
Have there been any strange inspirations that fascinated you and that you've channeled into an artwork?
"I watched this documentary show when I was a kid that observed people as if they were animals. It was called Human Animal. I love that idea because we often forget that we are just slightly smarter animals. I did a lot of drawings of people drawing on all fours and in herds."
Which art era is your favorite?
"It's not really an era, but I love Japanese woodblock prints and Chinese landscape paintings. I like the flat perspective. It's becomes more about seeing the overall scene than the viewer feeling like he exists in the scene; everything is treated equally. I like the minimal lines and flat colors, too. I was reading about how, in some Chinese landscape paintings, the painters try to paint not an actual mountain but its 'mountainess'. They have to find the essence of a thing and try to capture it with their brushstrokes."
Aside from art, what else do you enjoy doing?
"Wandering around the streets, biking, going to the beach, playing with animals, hugging, mixing drinks, drinking, reading comics, reading books and not finishing them, watching documentaries, King of the Hill, wasting my life away clicking random things on the internet, and also learning yoga on YouTube."
What's your zodiac sign?
"I'm a Libra, ruled by the gentle Venus."
All photos courtesy of Monica Ramos.
This story first appeared in Garage Magazine's May 2013 issue.