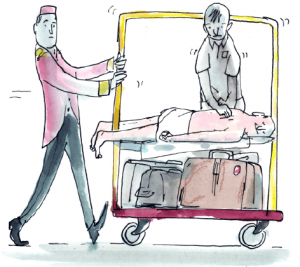 Who has time for a spa day?
Along with need-it-now services like virtual check-in and grab-and-go meals, hotels are offering 12-minute exfoliation treatments and 10-minute massages for travelers who want their spa treatments in the time it takes to microwave garlic potatoes.
No longer the purview of airports, lickety-split beauty and wellness treatments are augmenting the traditional spa menus at hotels and resorts. In the wake of the 2008 recession, many spas began offering shorter treatments for consumers who could no longer afford to indulge: Some 75 percent of spas added abbreviated treatments to their menus, according to the International Spa Association. The trend stuck, and appears to be taking on renewed significance at a time when beauty and wellness-on-demand apps like Glamsquad and Zeel allow people to book and receive massages, manicures, makeup applications and blowouts wherever they are — an Airbnb rental, an office building — with a few taps on a smartphone.
Among the nascent players is JW Marriott Hotels and Resorts. The upscale chain is rolling out its Spa by JW concept with treatments that last 12 to 25 minutes and can be booked without an appointment. Treatments include scalp massages, shoulder massages and hand exfoliation and moisturizing, and are offered in chairs tricked out with scent infusers, noise canceling technology and smartphone charging stations. "It gives our travelers who honestly don't have the time to do the full spa treatment the ability to refresh or calm down after a flight," said Mitzi Gaskins, Marriott International's vice president of luxury brand management.
So far, Spa by JW is in a couple of hotels, including the new JW Marriott Houston Downtown and the JW Marriott Mumbai Sahar in India; some 25 spas are in the pipeline. Gaskins said the concept grew out of Marriott's research, which included talking to avid spagoers around the world as well as guests who don't usually frequent hotel spas. Some felt intimidated by the typical spa setup, which often includes a secluded location within a hotel, a seemingly aloof reception desk staff and undressing and putting on a robe. Spa by JW is designed to be in a busy area of a hotel; a kind of additional lounge for guests that also offers quick pick-me-up treatments that can be booked on a whim rather than reserved a week before. The 12-minute tension-release massage at the JW Marriott Houston Downtown, for example, is $25; the 90-minute deep-tissue intensive muscle release massage is $200.
In December, Viceroy Snowmass in Colorado began offering its "ski-in/ski-out spa treatments" for skiers and snowboarders who want to spend a full day on the slopes but don't mind pausing for a bit of pampering. Guests can ski right up to the spa, hand their skis and poles to a "ski valet," and then take an elevator down to the spa for treatments that last 30 minutes. A Mediterranean lunch with healthful bites including hummus, olives and roasted vegetables is part of the package and may be eaten during the treatment — to save time, of course.
The most popular treatment, according to Debbie Alcorta, the spa operations manager for Viceroy Snowmass, is "Kick Off Your Boots" (30 minutes; $95 for the treatment, lunch and gratuity), which includes a foot bath in warm water, a lemon grass mimosa scrub, cuticle grooming and a hot stone massage. And good news for those who want to rush back out to the slopes: You don't even have to don a robe.
"We can just roll up your ski pants and your little second-skins, do the treatment and get you on your way," said Alcorta.
Is the 90-minute massage doomed? Hardly. Luxury hotels and resorts continue to introduce hour-plus treatments for those who want to spend the afternoon slathered in olive oil body butter, or have a deep-pore cleansing. But it's now easier than ever to get a quick fix, whether you just stepped off a plane or a ski slope. NYT