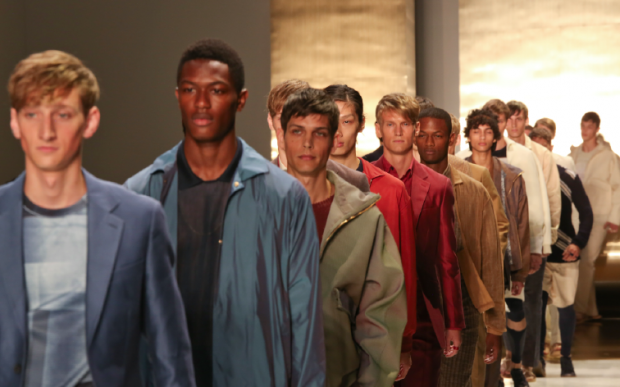 NEW YORK – In the language of recovery programs, folks who try to run from their problems by constantly changing location are "pulling a geographic." Returning to New York after more than a decade away, the men's fashion week took a generally sober approach to the buzzed and almost giddy excitement that has lately attached itself to menswear.
An impressive percentage of the nearly 60 shows not only made a persuasive case for consolidating the menswear presentations, but also for the robust health of menswear in general. It was cheering to observe novice indies like Jackson McKeehan's Boyswear and Carlos Garciavelez's Garciavelez standing up to industry Goliaths like Michael Kors and Polo Ralph Lauren.
Yet a nagging criticism heard from even die-hard optimists was that too many talents across the board seemed to have solved whatever design problems they encountered six months ago when first assembling mood boards by pulling a geographic. Where did they head? They went to California.
Fashion's westward drift has been underway for some time, with Hedi Slimane strip-mining every aspect of alt surf culture to revamp Saint Laurent from his new home base in Southern California; Tom Ford relocating his runway presentations to Los Angeles; Phoebe Philo building a Céline advertising campaign around Joan Didion (although not as a great American writer so much as a style avatar immortalized in Julian Wasser's photos); and European designers in general flocking to the Golden State for sun and surf and, uh, inspiration.
All the same, it was startling how many designers during New York Fashion Week: Men's fixed their sights on Lotusland. Mostly this is because they seemed to confine themselves to the same limited number of ZIP codes.
For Michael Bastian it was 90077, or Bel Air, California, a place that in this particular designer's continuing fantasy is populated by preppy hunks with floppy forelocks, guys who favor flipped collars, strenuously distressed cutoffs, Fair Isle cardigans, pullovers with the state motto (Eureka) woven into them, canvas pumps and scoop-neck T-shirts that show off a wearer's pneumatic pectorals.
For the rocker-fixated designer John Varvatos, it is 90046, or Laurel Canyon, a place that, as interpreted by him through the medium of taut striped summer suits, silly-looking dusters, and clodhopper shoes worn by longhair models like Miles McMillan and Nyima Ward, remained stuck forlornly in the amber of Jimmy Page dandyism.
For Perry Ellis' designer Michael Maccari, whose quiet collection was inspired, he said backstage Thursday morning, by the sight of a guy leaving a gym wearing a blazer over his T-shirt and sweat shorts, the relevant ZIP code is probably 90401, or Santa Monica, California.
On any given day, you can see phenomenally fit men exiting the Equinox there dressed in some version of the "athleisure" wardrobe Maccari, like many others, is attempting to formalize as a new generational uniform.
In Maccari's version, that look is constituted of elements like baggy shorts; both cropped bomber and boxy postman jackets; iridescent anoraks; lean and clean-lined suits in indigo stripes; sleek leather sandals with a single strap wrapped diagonally across the arch and anchored beneath the big toe; and compression tights that, as one front-row wag noted, were baggy on models who were actually that skinny.
It will surprise no one that the ZIP code Ralph Lauren embodied in his Polo Ralph Lauren collection was 90210.
Whatever else Beverly Hills may be, its name is recognized shorthand for a cluster of very particular notions about the American good life.
As a designer, that is something Lauren understands better than anyone else. Not long ago he split his menswear offerings into two divisions, the luxury Purple Label collection he showed in June in Milan and the Polo Ralph Lauren one seen at a live presentation held in the designer's lavish Madison Avenue showrooms on Thursday.
Gone is Black Label, a kind of midprice collection beloved of consumers but apparently confusing in a marketplace that, like the overall economy, has become increasingly bifurcated.
All designers are vying now to appeal to those at the highest end of the economic spectrum, increasingly savvy consumers who demand custom elements and the finest of fabrications for their luxury goods. That leaves the rest of us to get dressed as best we can. To oblige hoi polloi, Lauren has made some fairly radical alterations in his design brief.
"Polo has to be world," a spokesman with a long knowledge of the label said Thursday. It was his way of explaining how it is that the traditional preppy styles on which the Polo empire was built – having lost considerable traction in an environment dominated by younger and more geographically diverse consumers – had suddenly been shrunk down, taken in, cropped tight and given a jolt of sex, that WASP anathema.
You could probably cut two entire suits for a current Polo Ralph Lauren collection out of one bearing the Ralph Lauren label made but 20 years ago. That is how skinny proportions have become.
That there were suits at all was part of the brand's restructuring message, one that stripped away embellishment and trickery from the label's classic active wear, offered so-called broken suits in which the texture of a suit jacket's fabric varied subtly from that of the trousers, and added a double-breasted, peak-lapel tuxedo in midnight blue lest anyone miss the point that Polo is no longer just about sportswear.
Still, there were plenty of the rugged jackets and puffer vests and the elaborate fastenings you'd expect from a designer who never met a wooden barrel toggle button he didn't like.
And, of course, there were the jeans and sweatpants and khakis you would anticipate seeing in any Polo Ralph Lauren collection. But these have now been cut so snugly that they will leave little doubt in anyone's mind about whether their wearers favor boxers or briefs, or have dispensed altogether with undergarments and gone commando.